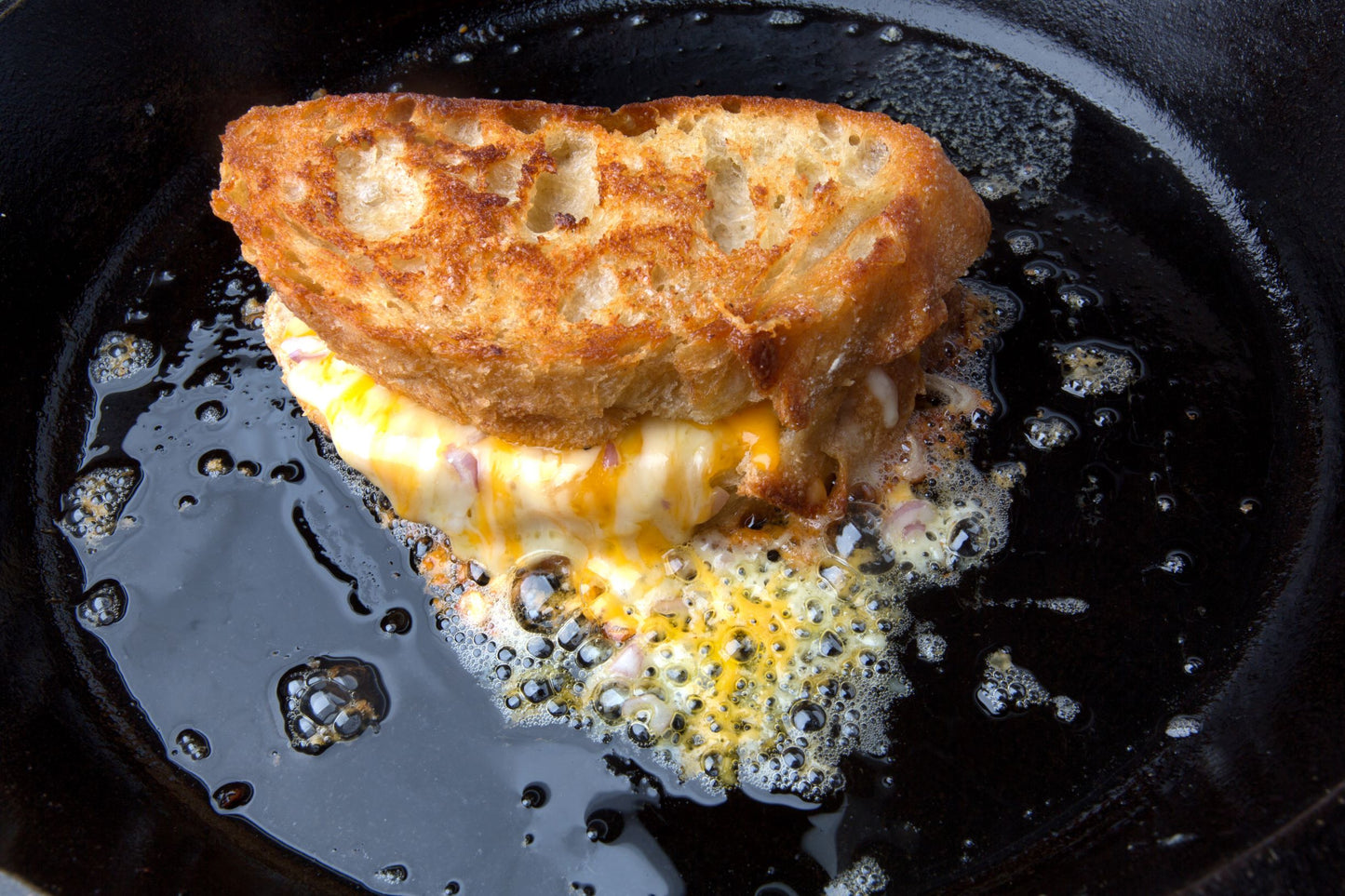 Hey there, I'm Kristi, creator of Soup du Jar. Whether you're looking for fun soups or just want to see what's happening in my kitchen, I'm glad you're here.
I've been on a mission to find fun, easy sides to accompany soups. People are amazed how simple it is to use what you often have in your fridge to make killer grilled sandwiches or easy salads.
Let's talk about a little piece of heaven known as grilled cheese.
Not the Velveeta, white bread, all things processed ones (although those have a special place in my youth). I'm talking about the next level of grown-up, melt in your mouth and perfect to dunk in a warm soup.
For this version, let's think beyond sandwich bread and instead, reach for the leftover baguette you might have. Are you a cheese collector? I have so many wax-wrapped wedges of various cheese, I have to label them so I don't forget what they are. For this quick side, I reached for the Jarlsberg and prosciutto.
However, use what you have. Maybe skip the blue cheese variety but mozzarella, sharp cheddar, swiss, there is no right or wrong. Let's not stop there, is there any leftover prosciutto, sliced ham, Soppressata hiding in your meat drawer? This isn't a deal breaker, skip if meat isn't your thing but if you are going to the market and want to experiment, grab the paper-thin sliced prosciutto.
What you need:
Hearty bread (baguette, French country, cracked wheat round, sandwich bread)
Your favorite cheese (fontina, gruyere, sharp cheddar, mozzarella, Jarlsberg)
Thinly sliced meat (prosciutto)
Butter
Fry pan or grill pan
Grill it up and enjoy! 
-Kristi Koplan
#grilledcheese #tasty #sidedish #appetizer #delicious #sandwich #soup #summerfood #foodie #foods