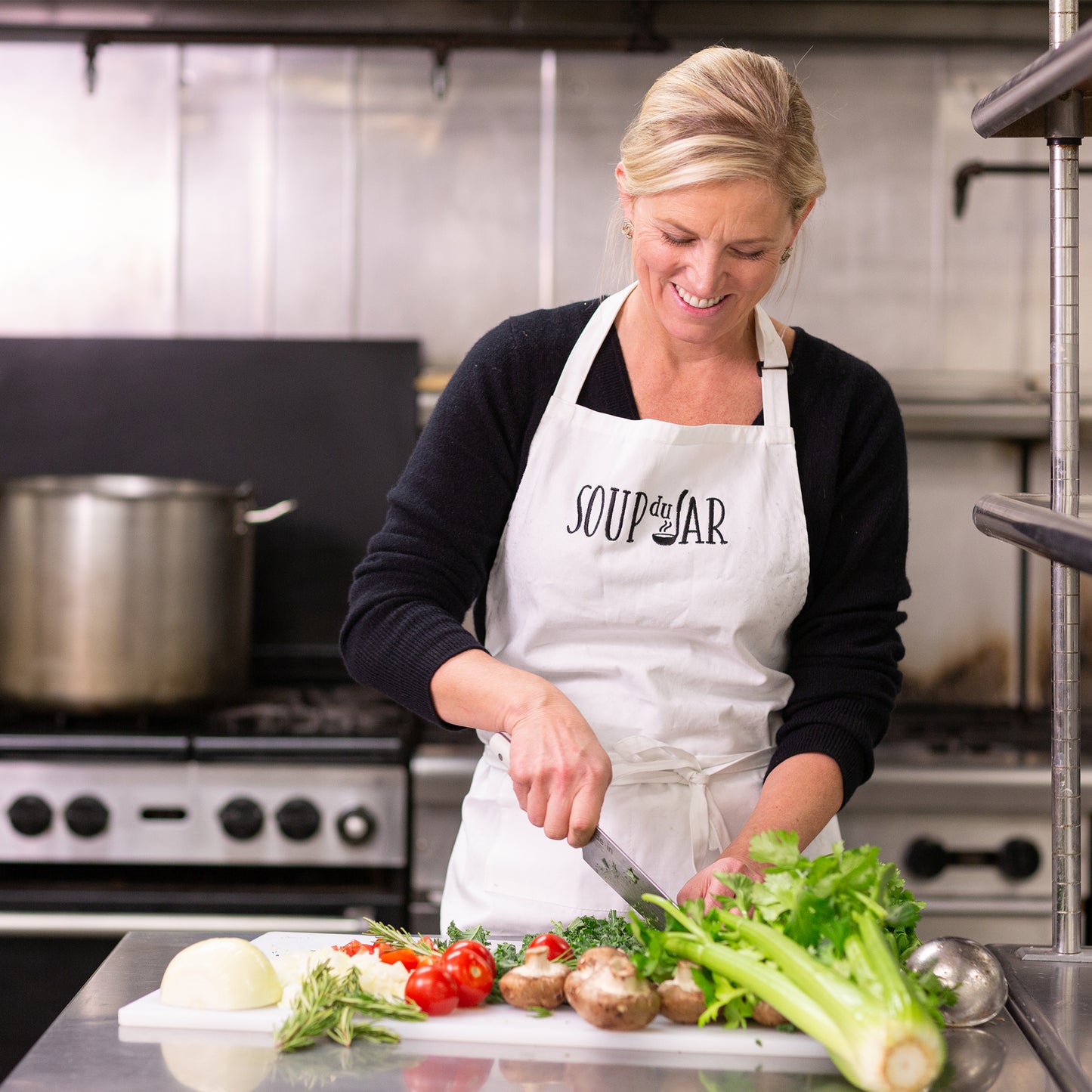 A native of the Pacific Northwest,
I grew up watching my mom pull together soups from leftover meals.  I never realized at the time that other people relied on recipes rather than taste—my mom's palate was her "measuring spoon" and she used whatever she had at her disposal to push back the Seattle mist with filling and warm comfort food.
As an adult living in Southern California with a family of my own, I continued to cook that way, feeding my creativity as well as my family.  SDJ has been a fun journey that started with making soup for my friends and family.
When the Covid pandemic compelled us all to stay closer to home, the interest in my soups increased dramatically. Soup du Jar was born as a great tasting way to address people's collective sensitivity to their health and immunity without sacrificing flavor and a wonderful food experience.
Soup du Jar recognizes both the need for sustainability of the body as well as the environment.
I promised myself early on that I would never make a soup I would not eat in a restaurant, so we will never offer heavy fat-laden "goopy" products. We've found using whole foods and avoiding additives has naturally resulted in healthy soups that marry flavors together to bring a flavor profile that entices all the senses and enriches the soul. 
We use locally sourced produce and organic products whenever possible. Our packaging intentionally uses glass containers rather than single-use plastic, and we encourage our customers to recycle the glass or use in their own home.
Soup du Jar isn't just a meal, it's an experience unlike any other. With every quart of made-from-scratch  soup comes a separate package of our Crunchy Bits™, a custom-paired bag of added crunch to complete any of the soup of choice.
At its core, Soup du Jar may be about awesome, unique soups but my vision is significantly broader.
"Soup du Jar is the introduction of a platform where I can create, collaborate, and share other complimentary products and cooking tutorials that will nourish both the body and the soul."
Creating in the kitchen is one way I give to my family, and that in turn brings me happiness.  Soup du Jar is my way to extend my passion. I hope our customers enjoy our soups as much as we enjoy making them!
-Founder/Chef Kristine Koplan 
#fooddelivery #foodblog #foodie #healthyfood #healthylifestyle #healthyliving #healthyfood #mealdelivery